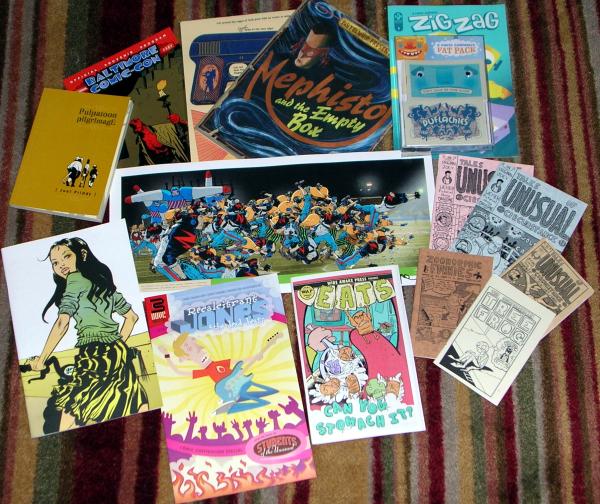 Beth and I had a great time at the Baltimore Comicon this past weekend (Sept. 8&9)! It was a really casual, relaxed show - much less claustrophobic and stifling than NowYouCanCome, but still drawing some really great creators. I came away with a lighter wallet, exchanged for a bounty of comics goodness (as you can see in the pic above). My first stop on Saturday morning was the AdHouse Books booth, so as to be sure to score a

ZOOBALL

print (Paul Pope colored by Jose Villarrubia)(mine was 4/100!). I also picked up

Zig Zag #1, THB: Comics from Mars, Pulpatoon pilgrimagE

, and loads of excellent minicomics from Joey Weiser. Joey was super-nice to Beth and I, and did sketches in all the minis, as well as in my copy of his excellent new book

The Ride Home

. It was really fun to meet Joey and Chris Pitzer (who both frequent the ISR forum), and right across the aisle was the ever-exuberant J. Chris Campbell. I scored a load of JCC/Wide Awake Press books, including the awesome(ding!)©

J

CC FAT PACK

of minicomics. His stuff is sooo fun! Right around the corner was the Top Shelf booth, and I was able to snag a copy of the only Matt Kindt book I didn't already have -

Mephisto and the Empty Box

. Matt is one of my all-time favorite comics creators, and it was a real thrill to be able to get a sketch and talk briefly about his future projects.

On Sunday, we attended the standing-room-only

Spotlight on James Jean and Paul Pope

panel. The discussion was moderated by Jose Villarrubia, and he did a great job of steering the discussion in interesting directions. PP was really inspiring, speaking about world-building, artistic direction, and his various influences. He did an A-V presentation that offered a look into his creative thought processes and the way in which he synthesizes myriad influences into his own idiosyncratic style. I left the con absolutely energized to make art!

A fun weekend, and what better way to end, than with a Joey Weiser sketch-parade . . .